so, i totally got scooped ahead of time on this band by the husband. but! they're worth the extra coverage, so you get two posts from our household for the price of one!
today's scottish band du jour is
the last battle
, an 6 member outfit from edinburgh (a place i still smart over not being able to visit during my summer in glasgow). currently signed to
17 seconds records
(have you visited the
17 seconds blog
? excellent music to be discovered there, peeps), the groups sings what they
dub
"low key folk pop" about "love, death, and longing." which, of course, is just my cup of tea.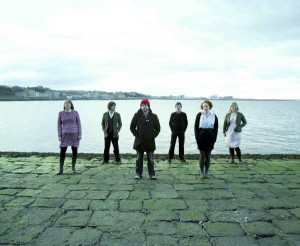 their debut is out now, entitled
heart of the land, soul of the sea,
but they also recently released a single on their bandcamp site that you can download for a mere pittance called
natures glorious rage
. and friends, i swooned when i listened to
243
and knew it had to be shared. it's got two out of three of their self-proclaimed topics: love and longing. simple guitar lines and plaintive vocals make for a gorgeous listen.
i didn't get the time to tell you
i was always busy running late
forgetful and drunk
i'm a slave
all my words
on night buses

you didn't have the time to notice
you were always busy running circles
around photographs of friends
i'm a slave
all my words
on night buses
should've scrawled them on you as you slept
smudges of eyeliner
a breath on the back of your neck

didn't get the time to tell you
i was always busy running late
forgetful and drunk
i'm a slave
all my words
on night buses

didn't have the time to notice
you were always busy running circles
around photographs of friends
i'm a slave
all my words
on night buses

should've scrawled them on you
as you slept
smudges of eyeliner
a breath on the back of your neck
my breath on the back of your neck

here's to the little things that fill my heart up
silent, but silently
(mp3) 243 by the last battle